SEPTEMBER - December
2021
online OFFERINGs
SEPTIEMBRE - diciembre 2021
OFRECIMIENTOS EN LINEA
DECEMBER
Special Event
WINTER SOLSTICE 2021:An Embodied and Creative Contemplation
NOVEMBER:
Special Event:
ALTARES: A RITUAL OF REMEBRANCE THROUGH EMBODIED CREATIVITY.
Class series: RECLAIMING STILLNESS: ARTFUL WAYS FOR NAVIGATING ANXIETY AND CULTIVATING RESILIENCY.
OCTOBER – NOVEMBER:
Workshop Series: IN YOUR OWN SKIN, EMBODYING SELF-CONFIDENCE
Special Guest Teaching: Art Cures Incubation Course with Adriana Marchione. Registration Opens soon, see below.
SEPTIEMBRE Y OCTUBRE

Rondas de Mujeres Creativas:
DEMÉTER, PERSÉFONE Y HÉCATE: Facetas, Etapas y Encrucijadas en la Vida de la Mujer.
ENVEJECER BIEN: Fascia y Movimiento. Stillness is where creativity and solutions are found.

RONDAS DE MUJERES CREATIVAS:
Despertando y Cultivando la Conciencia Femenina
a través de la Mitología, Movimento Somático, Artes Expresivas y Arquetipos
DEMETER, PERSEFONE Y HEKATE
Facetas, Etapas y Encrucijadas en la Vida de la Mujer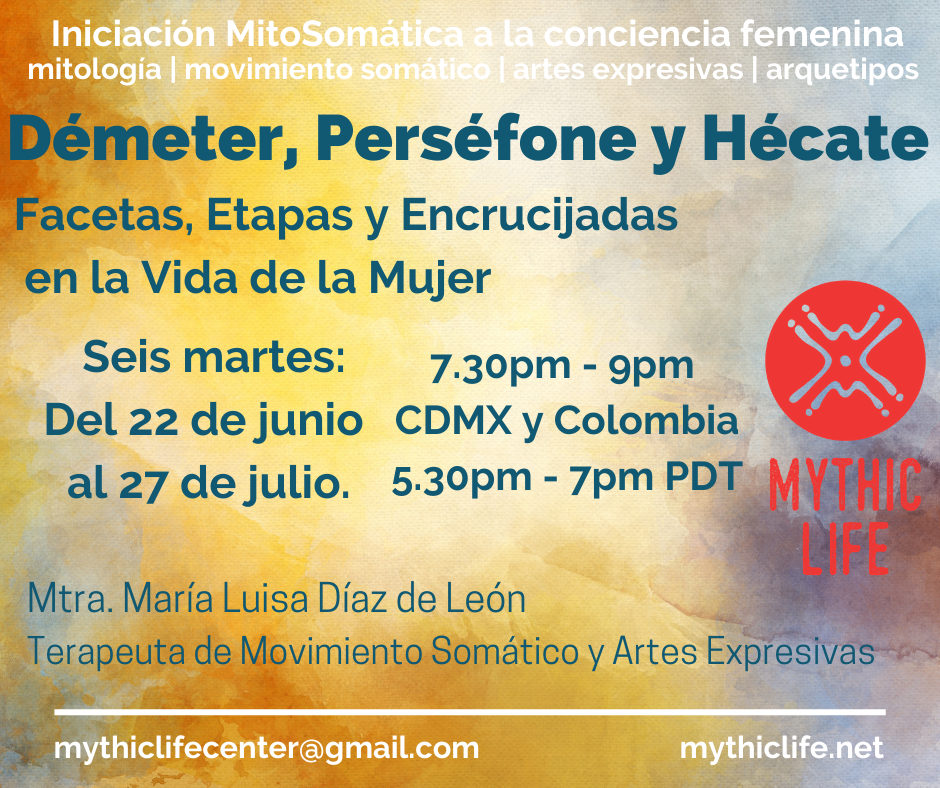 Encuentros Semanales en Martes
22 y 29 de junio y 6, 13, 20 y 27 de julio.
Horario:
7.30pm – 9pm CDMX y Colombia
5.30pm – 7pm PDT
Valor total: $3,976 MXN ($200USD)
Descuento válido al 15 de junio:
$3475 MXN ($175 USD)
* Pregunta por el plan de pagos flexibles*
Facilita
Mtra. María Luisa Díaz de León Z.
Terapeuta de Movimiento Somático y Artes Expresivas
En nuestro recorrido por la vida nos encontramos con varias encrucijadas, unas propias del desarrollo como las etapas de nuestro ciclo menstrual, nuestros años fértiles, la perimenopausia, menopausia y postmenopausia. Otras encrucijadas nos presentan distintos rumbos y debemos tomar una decisión para seguir adelante, por ejemplo: casarnos, ser madres, soltar una relación, cambiar de trabajo o de profesión, elegir una carrera, afrontar una enfermedad, o empezar de nuevo.
Sea cual sea la encrucijada en la que te encuentres en estos momentos, el mito griego de las diosas Deméter, Perséfone y Hécate, iluminará tu corazón, ampliará tu perspectiva e te inspirará valentía para des el siguiente paso con determinación, compasión y confianza en tí misma.
¿Te encuentras en una encrucijada en la vida y no sabes qué rumbo tomar?
¿Quieres descubrir cómo reparar, sanar o profundizar la relación madre/hija?
¿Te interesa conocer, profundizar y  vivir con plenitud cada etapa de los ciclos en la vida de una mujer?
En esta serie de seis encuentros semanales estarás sostenida por un círculo de mujeres que te permite escucharte a tí misma y a las demás. El abordaje creativo, de movimiento somático, artes expresivas, escucha íntima y trabajo con arquetipos te ayudará a descubrir y desterrar tu propia voz, tu verdad, y aquella parte de tí que posee la sabiduría que necesitas para atravesar cualquier situación de tu vida.
Temario:
Semana 1: Mapeando tu vida interior a la luz de mito de Deméter y Perséfone
Semana 2: Deméter y las posturas que tomo en la vida.
Semana 3: La diosa de las encrucijadas: Hécate y la homeopatía del arte de indagar, explorar y cuestionar.
Semana 4: Perséfone: La transformación es posible en el mundo de las profundidades
Semana 5: El Viaje de la Heroína
Semana 6: Integración
¿Qué incluye?
6 sesiones de encuentro semanales en línea.
Acceso a las grabaciones de cada sesión para no perderte ni un sólo momento del proceso en caso de que no puedas asistir.
Seguimiento semanal con recursos para apoyarte en tu proceso.
Grupo privado de FB donde compartir e interactuar con las demás.
WINTER SOLSTICE 2021:
AN EMBODIED AND CREATIVE CONTEMPLATION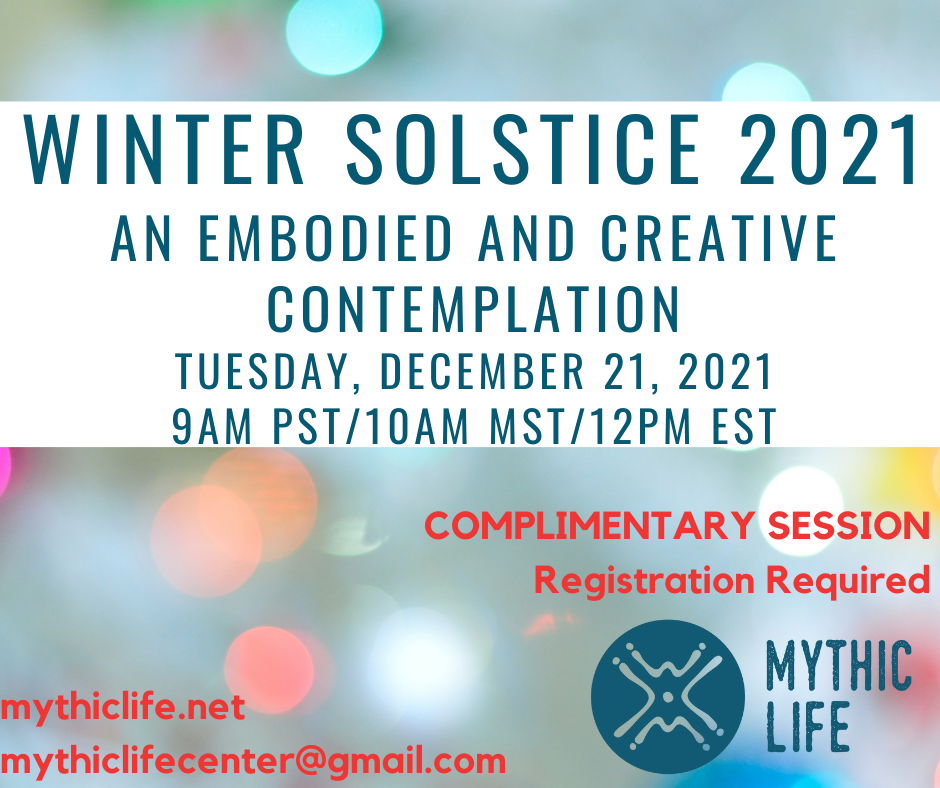 Date:
Tuesday December 21
Time:
9am – 11am PST
10am – 12pm MST
12pm – 2pm EST
Find your local time here: https://www.timeanddate.com/worldclock/meeting.html
After registering, you will receive a confirmation email containing information about joining the meeting.
Mythic Life's Annual Complimentary Online Event & Gathering
Winter Solstice 2021: An Embodied and Creative Contemplation
In gratitude and appreciation for your participation and interest in Mythic Life's classes, workshop series, lectures, and events in 2021 I am gifting YOU with a Winter Solstice Somatic and Creative Contemplation session. Our theme is : 
Honoring the LIGHT in our BEING through somatic medication and expressive arts
In this event we will embody the nascent light from the center of our pelvis into our whole body. We will move, contemplate and dance; we will create images, poems and share with each other. All levels of experience are welcome!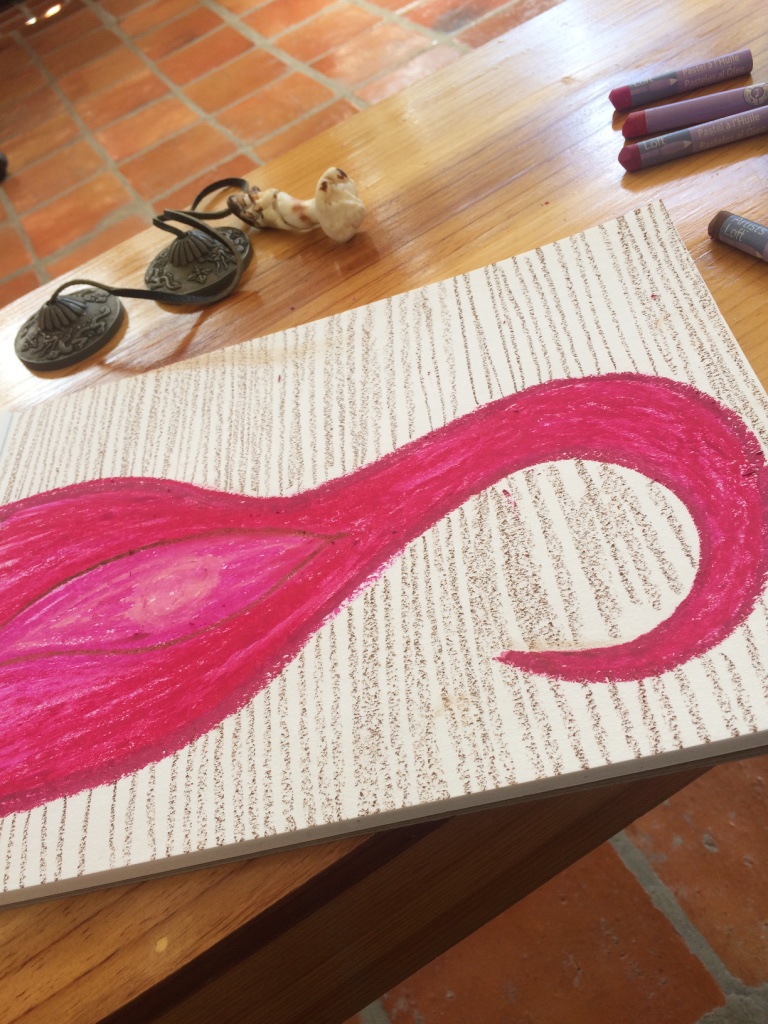 DATES:
Thursdays September 2, 9, 16 & 23, 2021
TIME:
9:00 AM – 10:30 AM PDT
12:00PM – 1.30PM EDT
PRICE:
$60/series
Reclaiming Stillness: Artful Ways for Navigating Anxiety and Cultivating Resiliency
"Stillness is where creativity and solutions are found."  ~ Meister Eckhart
Join us for a 4-week class series and dive into creative inquiries to embody radical presence, develop self-compassion, and unearth your body's resiliency this September.
Workshops feature the Tamalpa Life/Art® methodology: somatic movement, drawing, creative writing, improvisation, and ritual.
Each one of these workshops provides participants with somatic and creative practices that can be further developed and integrated into the daily life. Aspects of the Polyvagal Theory will be used and applied to support self-regulation and provide the ground for the creative work.
No dance or art experience needed.
To get the most out of this online series, please prepare a comfortable space to move in with access to your online device and a reliable internet connection. Also, have art supplies ready at hand for drawing activities, and paper and pen for journaling and creative writing exercises
What prior participants have said:
"Maria Luisa's poetic guidance to slow down and tune into the body is a crucial gift in a time when the world seems to be spinning out of control. By turning inward, I gained deeper clarity to ground myself as I move out into the world." ~ Debra Stuckgold
"I treasure the safe container and creative space Marialuisa holds. Her groundedness and authenticity have helped me connect deeply with my sacred bodymind. I have found her work invaluable." ~ Dvora Liberm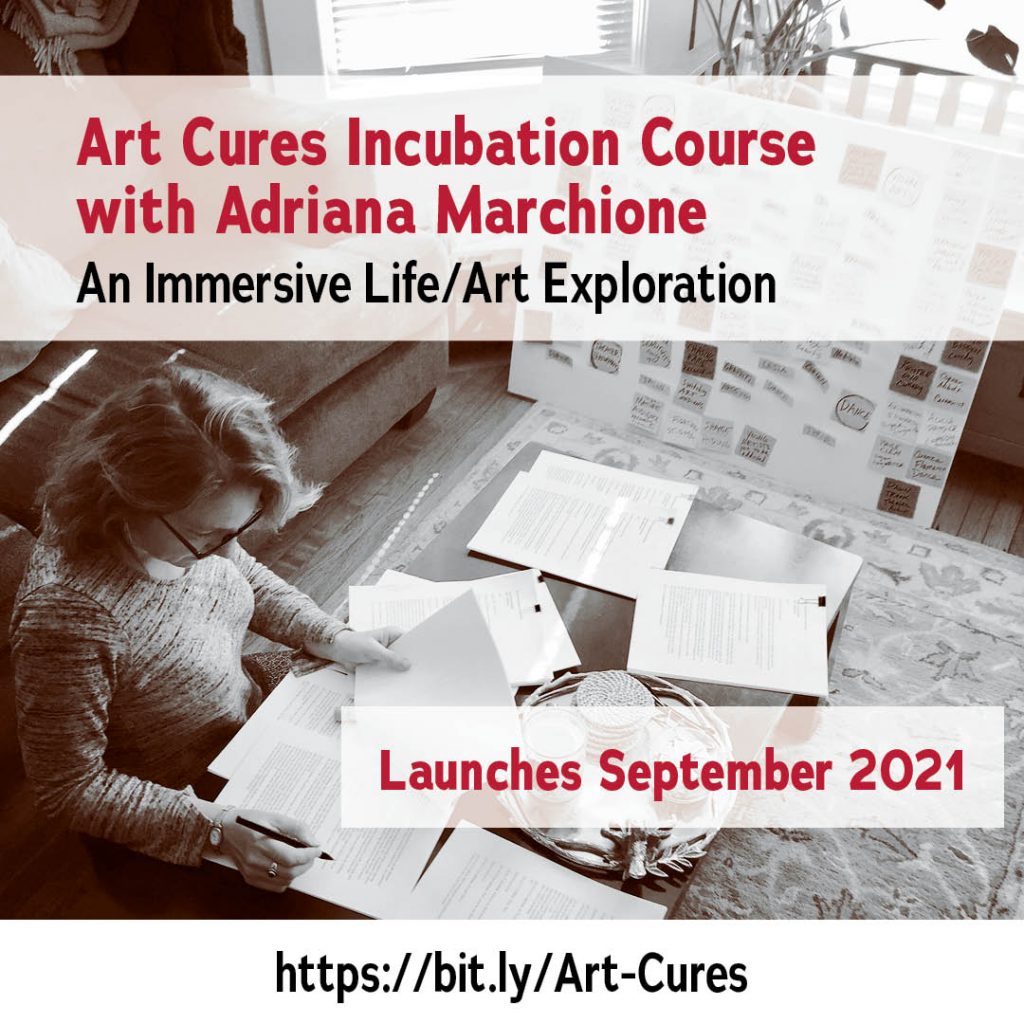 This fall my esteemed colleague Adriana Marchione, will be teaching her Art Cures Incubation Course where I am a one of the presenters. This course will lay out a path to compost the 'tough stuff' into creative fuel, open up the possibilities to make art that is transformative, while using an embodied approach. This is ideal for Educators, Artists, Coaches, Writers, Performers, Therapists, Designers, Musicians or Anyone who wants to learn more about healing through creativity.
If you are feeling lost, isolated, uninspired or simply need more focus to create, this course is for you. A combination of expressive arts therapy and creative coaching methods, the Art Cures Incubation Course will hold you in the vulnerability of the creation process, while allowing you to take risks while being a part of a lively creative community. The course will be held on Fridays, September 17 – December 10, 2021. 
Here is the link with all the details: https://www.adrianamarchione.com/art-cures-incubation-course/
presentación especial
"respiración y la danza de enveje-SER"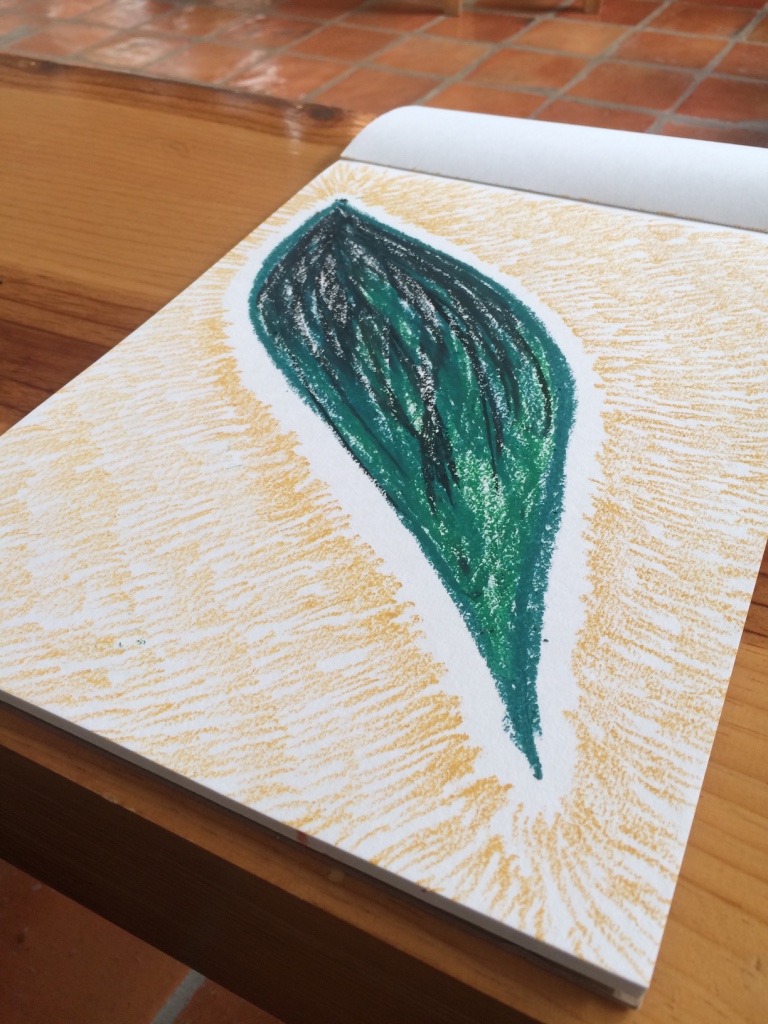 RESPIRACIÓN Y LA DANZA DE ENVEJE-SER
Anna Halprin (1920 – 2021) decía que bailar es hacer visible la respiración. Así pues, dedicó la segunda mitad de su vida después del cáncer a danzar cada etapa.
A través de herramientas y prácticas somáticas rescataremos el contacto con la danza continua de la respiración. Exploraremos cómo el envejecer se transforma en envejeSER a través del contacto con la respiración. Tocaremos la respiración, sentiremos el toque de la respiración, y exploraremos metáforas de movimiento a partir de las pautas primarias del movimiento de la respiración.
Presentación especial en el seminario Envejecer Bien: Fascia y Movimiento. Let difficulty transform you. And it will. In my experience we just need help in learning how not to run away.

CARRYING TRUST
AFTER MISCARRIAGE
AN 8-WEEK SOMATIC AND EXPRESSIVE ARTS HEALING PATH FOR WOMEN

Two days after having had a miscarriage I barely felt my pelvic area. I was teaching my weekly Somatic Dance class and when I tried to do some movements like rolling the hips, I could not do them. It was as if my uterus, bladder, cervix were all hardened making a fist. I was scared, disappointed, angry, and sad. I decided to let my body lead the way of my next steps, I needed to come to terms that I was pregnant and then I wasn't. It sounds simple, but it was complex: something in me was alive and then something in me was dead.
For many women, miscarriage is a wounding experience of loss for which they need adequate support to heal. Healing from miscarriage entails a grieving process often accompanied with symptoms of PTSD, including numbness, hypersensitivity, or pain often localized in the pelvic area. Health care professionals and family members usually downplay the effects that miscarriage has on women and overlook the emotional pain. Women are left to their own to deal with a sense of mistrust, guilt, and shame over their body. How does somatic movement and expressive arts support women in healing after having a miscarriage and regain trust and vitality in their body?
Pelvis is associated with the cycles of birth/death/rebirth. With miscarriage, the pelvis goes from being a fertile womb to a cold tomb. A frozen pelvis is experienced as lack of sensitivity, mobility, hypersensitivity, or pain. I desinged this 8-week program to support women in completing and integrating the grieving experience of miscarriage and reclaim trust and joy in their body.
Throughout the program I will hold space for you, support you, guide you and offer you effective tools so you can:
Encounter and express your grief, and the variety of feelings that you are experiencing.
Identify parts of your body that have gone numb or are hypersensitive, and recover sensation and mobility.
Guide you safely into creative ways to express your story.
Create your own healing ritual(s).
Pre-requisite:
Please schedule a 20min conversation to determine if this program is right for you.
Contact me for more information, availability and fees: mythiclifecenter@gmail.com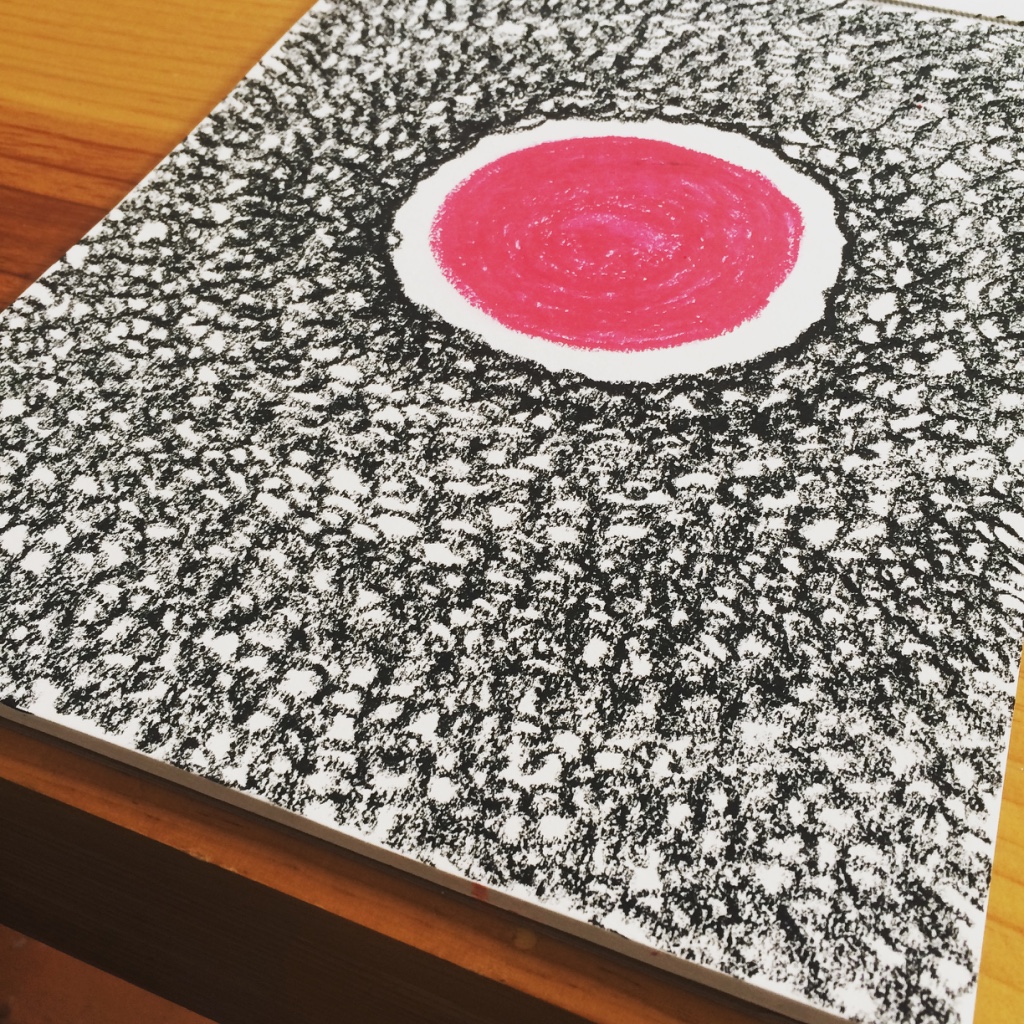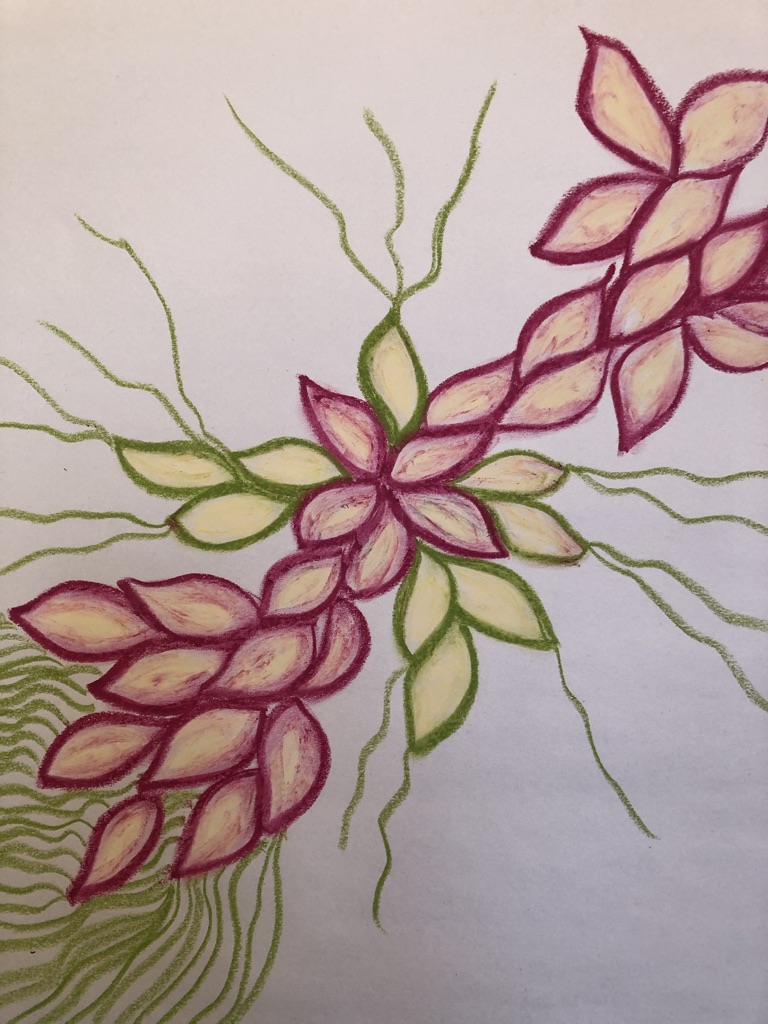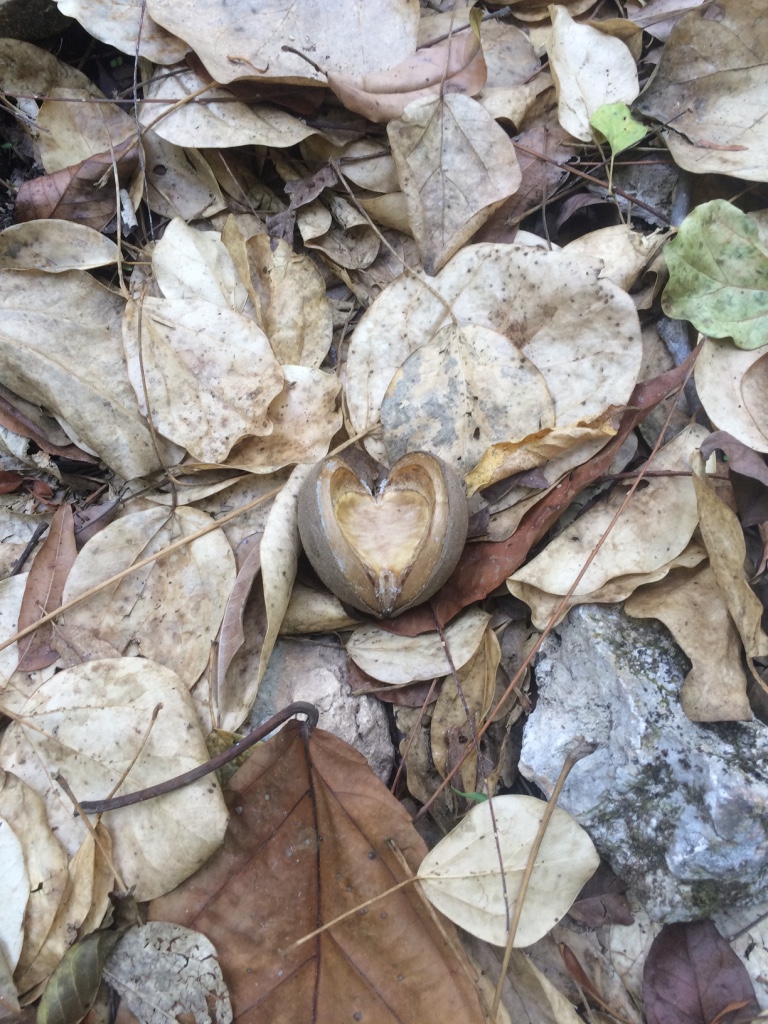 SOMA'S MYTHIC PATHWAYS SERIES
Pelvic Wisdom Series: Embodying the Cycles of Life and Death
How are ancient myths rooted in particular body experiences? How does somatic movement help us become aware of our shared humanity? And how can myth be used in somatic movement practices as a tool to better develop this awareness?
Ancient myths sprang from the body experience. Myth and somatic movement are two ends of a spectrum and metaphors are the vehicle to travel between the two. Both, somatic movement and myth are modalities of the imagination –for image is not just visual but it is also a felt sensation. From an archetypal psychology perspective, somatic movement is a myth making and soul tending practice. Somatic and expressive movement takes us across into the phenomenology of myth and leads us to an embodied understanding of our life as a unique and living expression of a larger myth.