April - JUNE 2023
online OFFERINGs
APRIL 2023
Eating the Pomegranate Seeds
JUNE 2023
Reimagining Demeter: Moving the Mother Archetype Forward in Art and Life.

AUGUST – SEPTEMBER 2023
Trust Your Intuition: Inanna's Descent. Contemporary Revelation from Ancient Myths
OCTOBER – NOVEMBER 2023
Awaken and Access your Deep Wisdom Within. An Endocrine Self-Portrait Process
MONTHLY
WOMEN'S GROUP: DEEP FEMININE CIRCLES
Moving the Mother Archetype Forward in Art and Life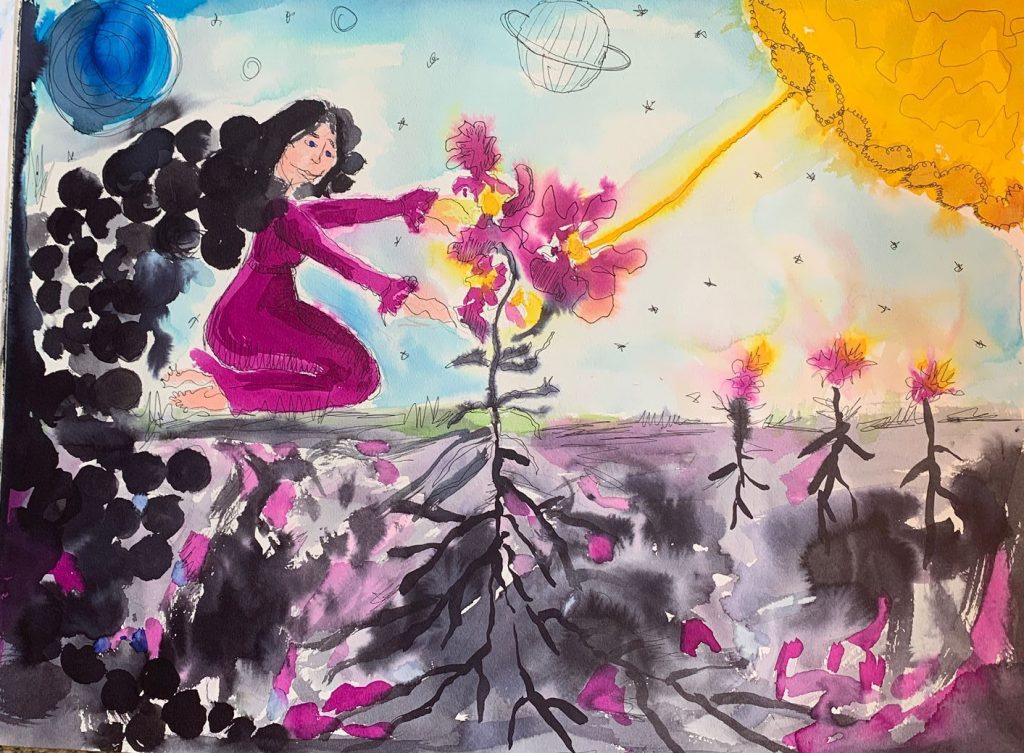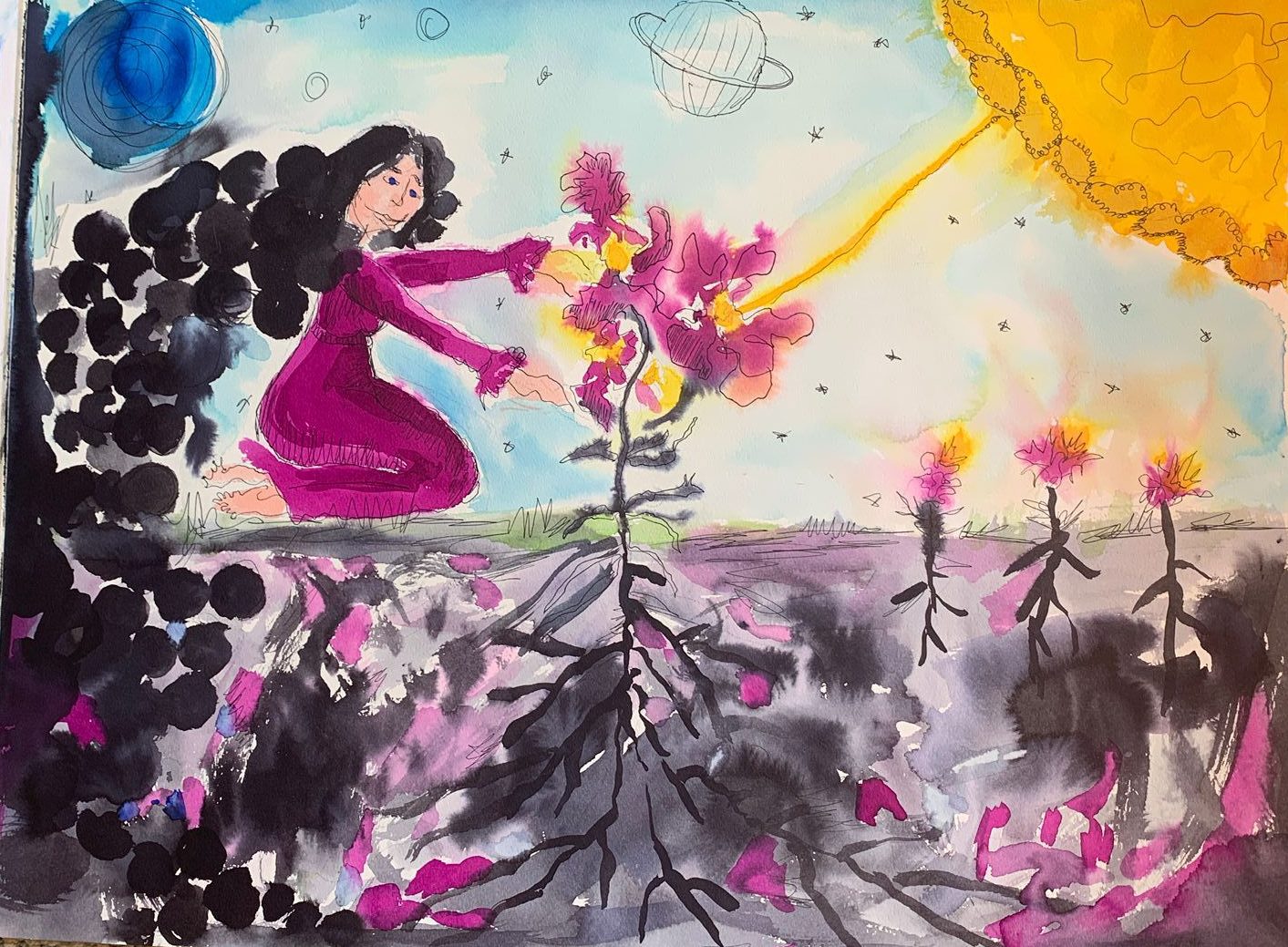 Dates:
Four Wednesdays
June 7, 15, 21, 28
Time*:
9.00am – 10:45am PDT
12.00pm – 1:45pm EDT
Find your local time here: https://www.timeanddate.com/worldclock/meeting.html
Registration: $80
Myths are timeless and so is our soul.
The Greek goddess Demeter is an archetypal mother figure that must be reimagined if we are to embody her cyclic wisdom, reclaim her courage, and harness her healing energies. Demeter's journey is multifaceted: from bliss to loss, from grief to despair, from contentment to anger, and from victimhood to empowerment. Demeter shows us the way back home to ourselves after a loss, when at a crossroads in our life, and while facing an unexpected event. As Demeter goes in search of her daughter she sets in motion the process of searching for the parts of herself that she has neglected. Demeter's myth sheds light into a deep lesson from grief and victimhood: radical mothering begins with oneself.
In this 4-week journey participants will be guided to identify their own individual resonances with and connections to the story of Demeter utilizing the methodology of the Tamalpa Life/Art Process: somatic movement, movement metaphors, guided imagery, and expressive arts, and Life/Art dialogues
No previous art experience is necessary.
Facilitator:
Marialuisa Diaz de Leon, MA, REAT, RSME/T.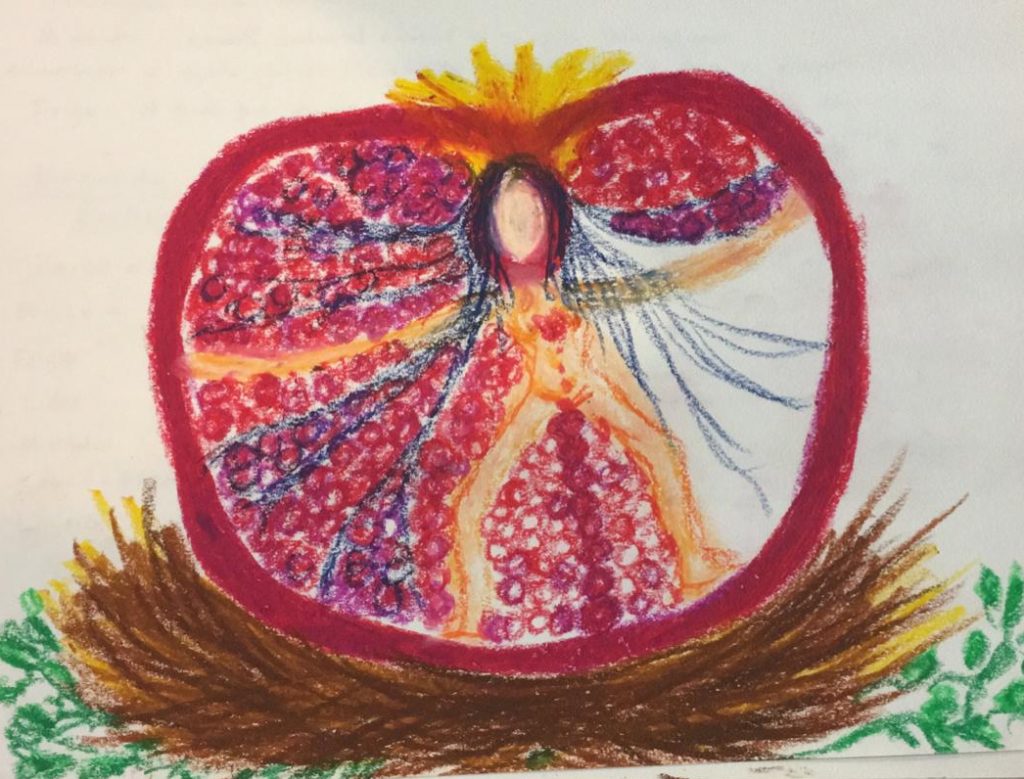 Art by Mariana Osorio, July 2022
Marialuisa is a gifted and generous facilitator, who guides with a combination of gentleness and passion. She has a special talent for leading people into very personal and sacred places in a way that feels safe and transformative. Her work is always grounded in the physical and emotional realms of embodied learning and the breakthroughs can be life-changing. I have studied with her for years, and every class is a new discovery.          Elaine Rose
EATING THE POMEGRANATE SEEDS
DEMETER. PERSEPHONE. HEKATE. RE-IMAGINED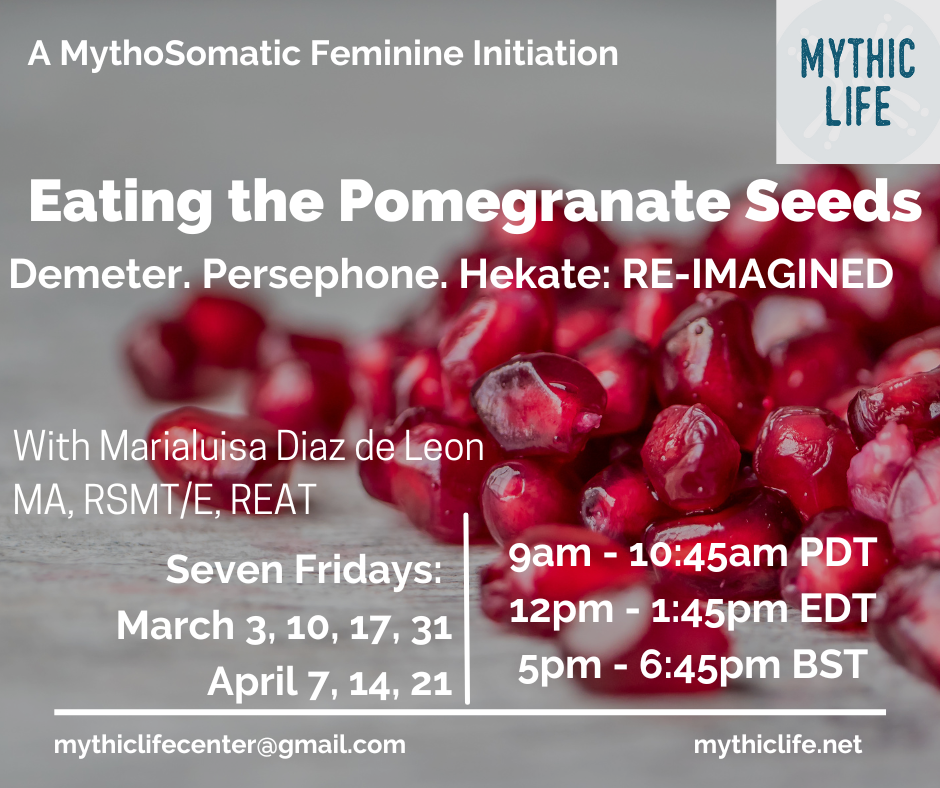 Fridays: 
March 3*, 10, 17**, 31 (no session on March 24)
April 7, 14, 21
Time*:
9am – 10.45am PDT
12pm – 1.45pm EDT
5pm – 6:45pm BST
2am – 3.45am Corea (next day).
Important Schedule notes:
*The first session on March 3rd will be 2 hours of length.
**As I am located in the USA, please note that Daylight Saving Time is on March 17. Please check how this might affect your local time here: https://www.timeanddate.com/worldclock/
Registration: 
$200USD value.
Early Bird: $150 – Registration by February 19th.
Payment Plans Available.
A MythoSomatic Feminine Initiation
Myths are timeless and so is our soul. Join us in a journey to explore, express and reflect on your life cycles and transitions by re-imagining the ancient Greek myth of Demeter and Persephone. As the season changes from winter into spring in the Northern Hemisphere, this ancient story mirrors and helps us reconnect with the cyclic beauty of our lives as women.
We will engage in creative inquiry, endocrine/imaginal contemplations, somatic movement, storytelling, guided imagery, and art-making utilizing the methodology of the Tamalpa Life/Art Process and my studies at The School of BodyMindMovement.
In this workshop series:
Demeter will shed light into a deep lesson from grief: mothering that begins with oneself.
Persephone will teach us how to be in the unknown, embrace our fears and anxiety, ingest the seeds of our inner knowledge and navigate through the cycles in our body and life.
Hekate will guide us in the art of inquiry and the value of crafting questions to open up possibilities.
Why re-imagining? just as we have learned to think of ancient goddesses as static figures from the past, we also have learned to limit ourselves to a definition of who we are. When we re-imagine those ancient goddesses we mobilize within us the energies that have become stagnant within us.  As a result, we reclaim that which is precious and meaningful in us and embody the courage to offer it to others. 
The series will culminate in a circle of harvesting our collective wisdom and compassionate witnessing
Marialuisa's work has provided rich nourishment for my mind, body and soul in it's unique blend of theory, practice and spiritual depth.  She offered scientific knowledge as a scaffold through which to enter somatic experience, which in turn acted as a gateway into a deeper connection with myself and the mysteries beyond. Her gentle focused presence, attentive listening and heartfelt aesthetic responses created a safe and trusting space despite the limitations of an online connection. Katy Menell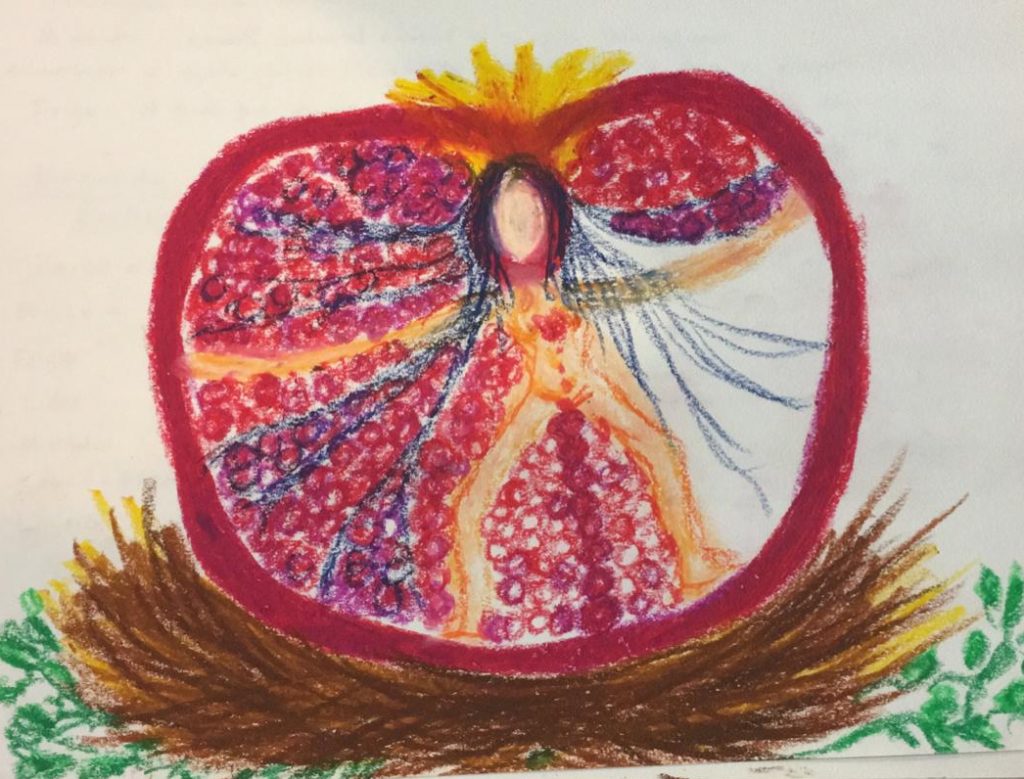 Image by Mariana Osorio, 2021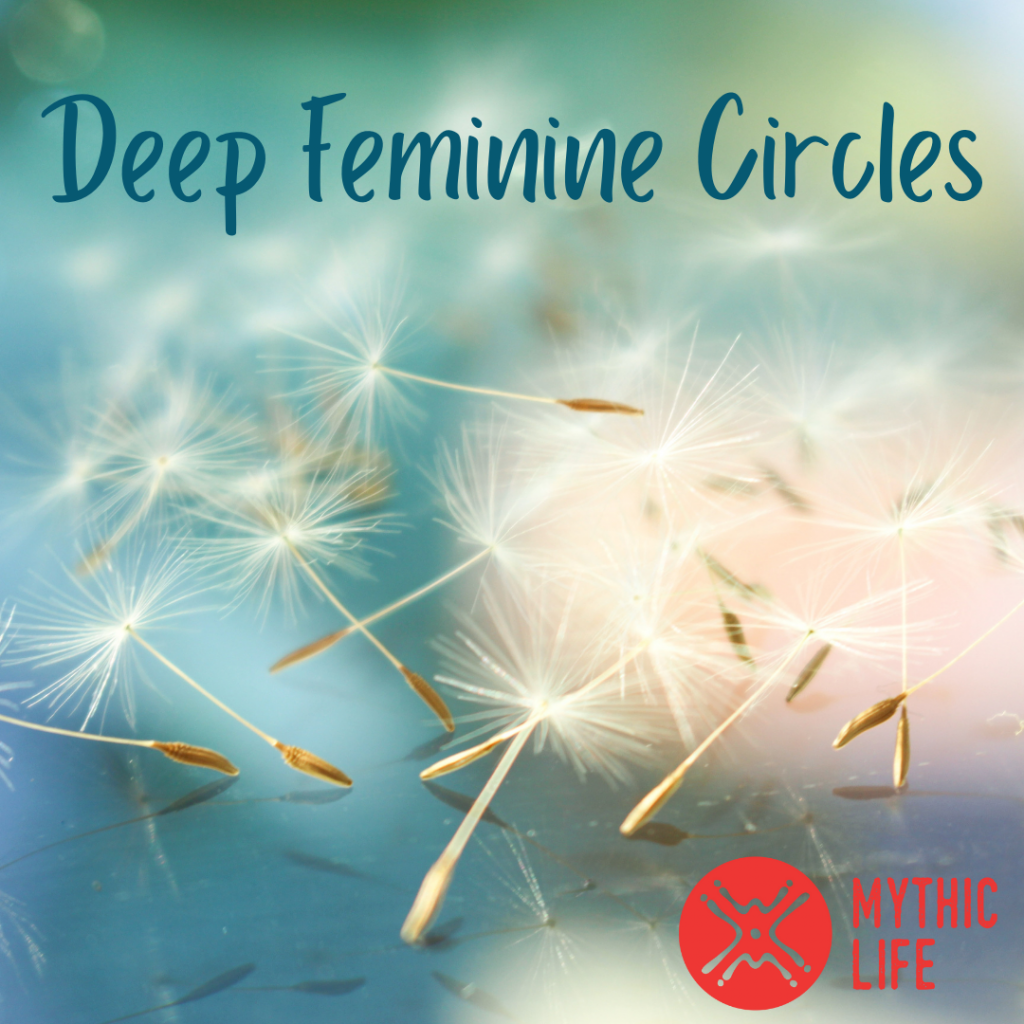 A safe space to share the ways you embody the archetypal energies of the feminine in your mythic journeys and life cycles.
The circle will have an opening and a short guided somatic movement practice with a central theme or question for the day. Following that, the space will be open for speaking and listening from the heart. Aesthetic interventions and responses are offered from witnesses. As we close the circle we harvest the learnings, insights, questions that each participant has identified.
Space limited to 12 participants per session. Application required.
Fourth Friday of the month.
Upcoming dates:
May 26 | June 23 | July 28 | August 25
Time: 12pm ET – 2pm ET – Other time zones please look here. Stillness is where creativity and solutions are found.

Rondas lunares de mujeres creativas
Cultivando y fortaleciendo la sabiduría femenina a través del movimiento somático, la mitología, arquetipos y las artes expresivas.
En estas rondas mensuales cultivamos un círculo íntimo, seguro y poderoso de co-creación para situarnos en el momento en que estamos viviendo a nivel personal e identificar retos, oportunidades y recursos para seguir avanzando en nuestro caminar.
Cada Ronda se abre con una práctica guiada de movimiento somático alineada con la fase lunar de ese día y que nos introduce al tema central de la sesión. El espacio se abre para hablar y escuchar profundamente con y desde el corazón. Atestiguamiento compasivo, acuerpado y libre de crítica nos permite ofrecer un reflejo y sostener la sabiduría que nace en cada una. 
Dirigido a toda mujer hispanohablante que tenga experiencia en escucha profunda y respetuosa.
Cupo limitado a 12 participantes para lograr una mayor conexión y atención a los procesos personales.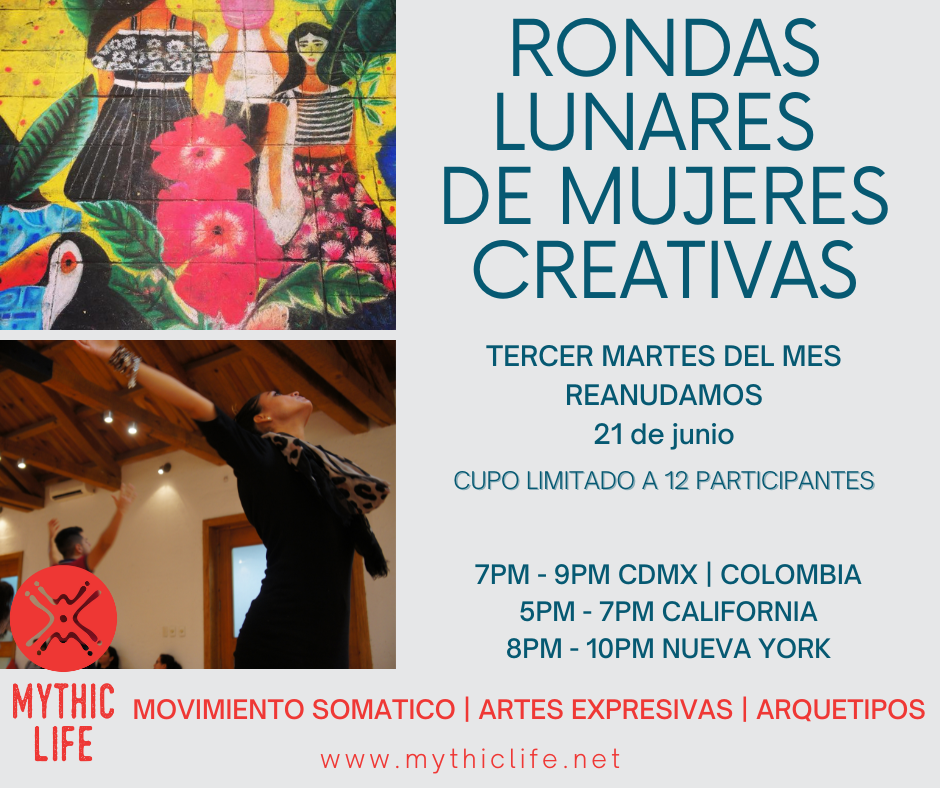 Let difficulty transform you. And it will. In my experience we just need help in learning how not to run away.

CARRYING TRUST
AFTER MISCARRIAGE
AN 8-WEEK SOMATIC AND EXPRESSIVE ARTS HEALING PATH FOR WOMEN

Two days after having had a miscarriage I barely felt my pelvic area. I was teaching my weekly Somatic Dance class and when I tried to do some movements like rolling the hips, I could not do them. It was as if my uterus, bladder, cervix were all hardened making a fist. I was scared, disappointed, angry, and sad. I decided to let my body lead the way of my next steps, I needed to come to terms that I was pregnant and then I wasn't. It sounds simple, but it was complex: something in me was alive and then something in me was dead.
For many women, miscarriage is a wounding experience of loss for which they need adequate support to heal. Healing from miscarriage entails a grieving process often accompanied with symptoms of PTSD, including numbness, hypersensitivity, or pain often localized in the pelvic area. Health care professionals and family members usually downplay the effects that miscarriage has on women and overlook the emotional pain. Women are left to their own to deal with a sense of mistrust, guilt, and shame over their body. How does somatic movement and expressive arts support women in healing after having a miscarriage and regain trust and vitality in their body?
Pelvis is associated with the cycles of birth/death/rebirth. With miscarriage, the pelvis goes from being a fertile womb to a cold tomb. A frozen pelvis is experienced as lack of sensitivity, mobility, hypersensitivity, or pain. I desinged this 8-week program to support women in completing and integrating the grieving experience of miscarriage and reclaim trust and joy in their body.
Throughout the program I will hold space for you, support you, guide you and offer you effective tools so you can:
Encounter and express your grief, and the variety of feelings that you are experiencing.
Identify parts of your body that have gone numb or are hypersensitive, and recover sensation and mobility.
Guide you safely into creative ways to express your story.
Create your own healing ritual(s).
Pre-requisite:
Please schedule a 20min conversation to determine if this program is right for you.
Contact me for more information, availability and fees: mythiclifecenter@gmail.com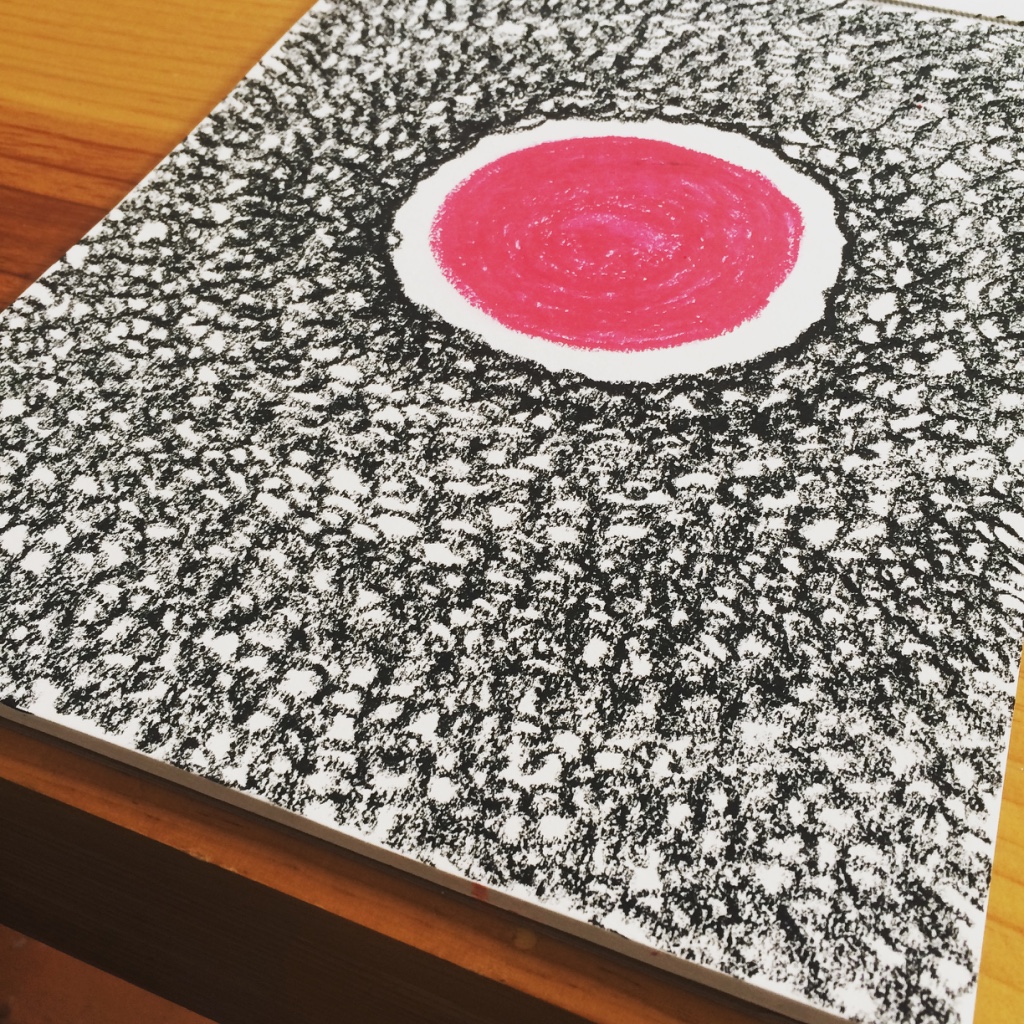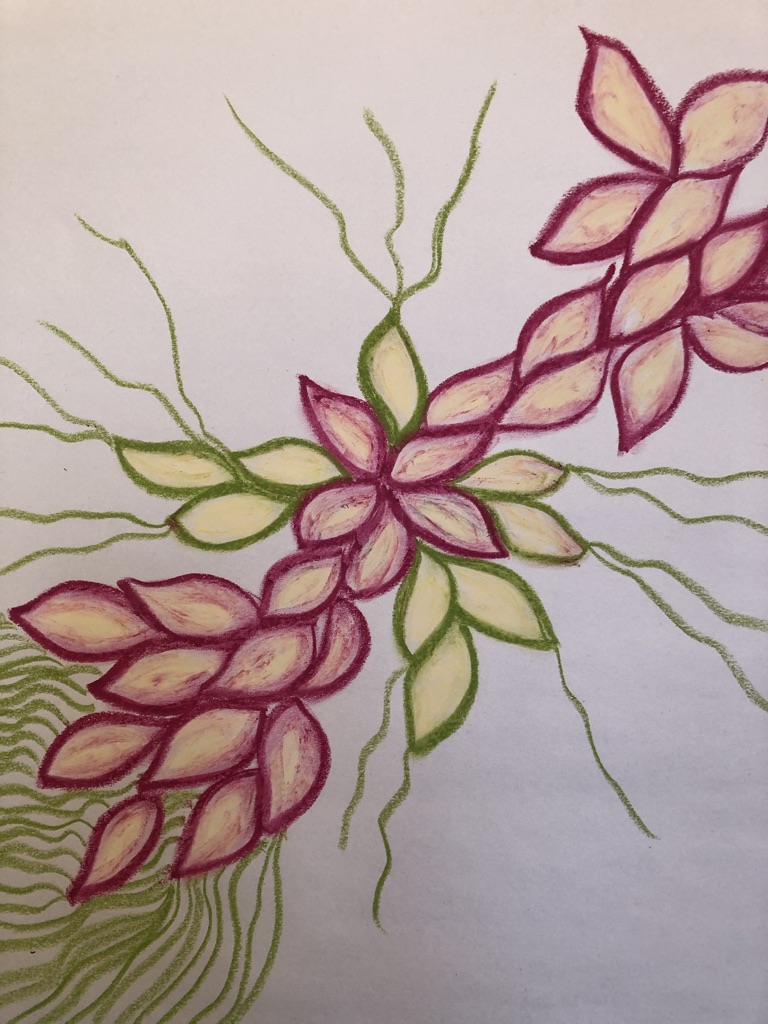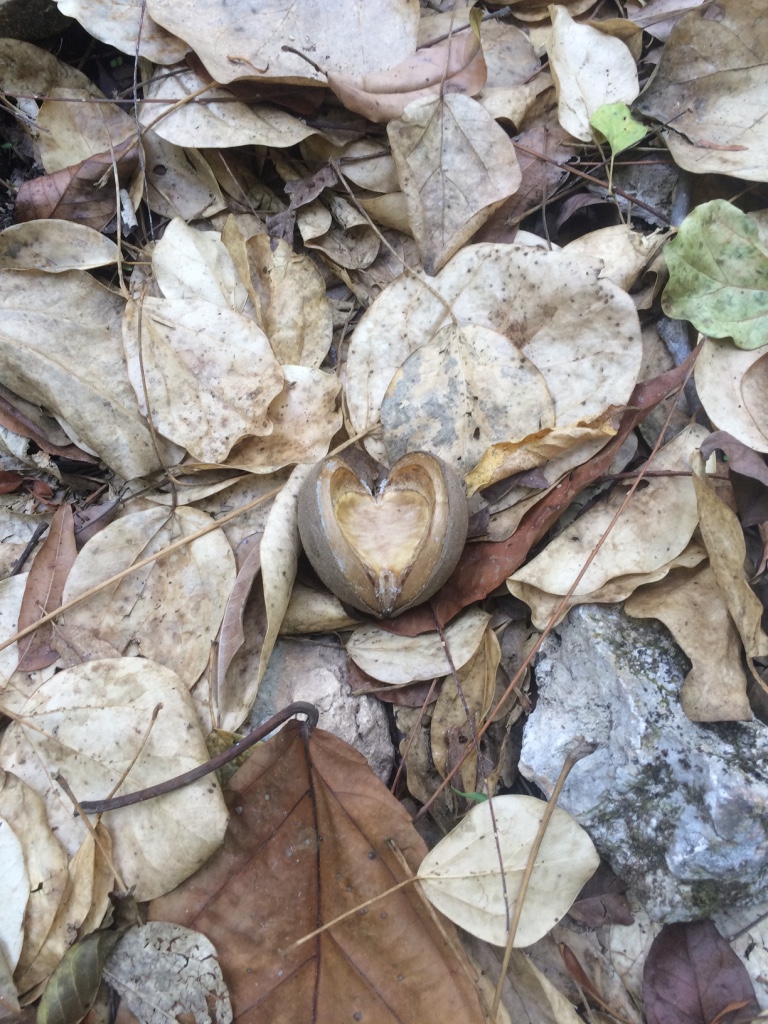 SOMA'S MYTHIC PATHWAYS SERIES
Pelvic Wisdom Series: Embodying the Cycles of Life and Death
How are ancient myths rooted in particular body experiences? How does somatic movement help us become aware of our shared humanity? And how can myth be used in somatic movement practices as a tool to better develop this awareness?
Ancient myths sprang from the body experience. Myth and somatic movement are two ends of a spectrum and metaphors are the vehicle to travel between the two. Both, somatic movement and myth are modalities of the imagination –for image is not just visual but it is also a felt sensation. From an archetypal psychology perspective, somatic movement is a myth making and soul tending practice. Somatic and expressive movement takes us across into the phenomenology of myth and leads us to an embodied understanding of our life as a unique and living expression of a larger myth.